Webinar on "Unleash Efficiency with Dynamic Task Manager for Aras Project Management"
October 20, 2023
|
|
Event
In our fast-paced business world, optimizing project management is key. On October 19, 2023, Aras and Zionex hosted an enlightening webinar showcasing Dynamic Task Manager (DTM). This innovative Aras add-on transforms project task management.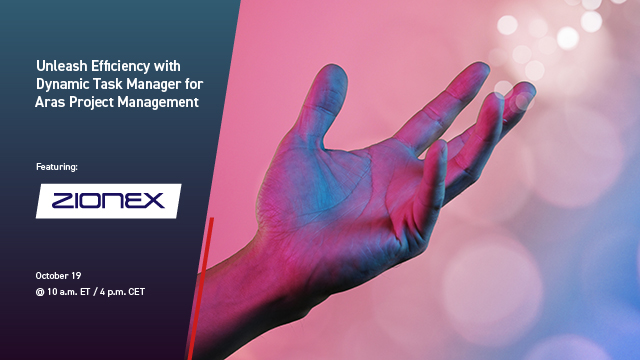 Seamless Integration for Streamlined Workflows
DTM integrates seamlessly with Aras Innovator, making project workflows more efficient. Say goodbye to bottlenecks and missed deadlines.
Discover the Power of DTM
DTM simplifies project workflows with a dynamic, intuitive interface. It empowers decision-making, seamless collaboration, and organization.
In-Depth Visibility Across Multiple Projects
DTM provides deep visibility across multiple product development projects. Manage tasks, deadlines, and resources with ease.
Success Stories from Leading Companies
Hear inspiring success stories from companies like Kawasaki Heavy Industries and JAMCO Corporation, highlighting how DTM transformed their project management.
The Implementation Process
Learn about the implementation process at customer sites like Kawasaki Robotics and JAMCO Corporation's Aircraft Interior Division. Understand the challenges, strategies, and value gained from DTM.
Don't miss your chance to enhance productivity and efficiency with DTM. Watch the webinar to transform your project management. Your projects will thank you!
Please visit the following link for checking out the webinar contents: https://www.aras.com/en/resources/all/wbr-20231019-unleash-dtm